CEO Message
As a new season begins and here at Kootenay Rockies Tourism, we launch into a new fiscal year, I am struck by how the world continues to speed up. I used to think that when it slowed down, I would reorganize all my files on my computer and in my desk, take stock of what could be put on the 'for a slow day' list and ponder about what we had learned in the year just completed before moving ahead.
The reality is, no one has that kind of time these days; we are all doing our best to keep up with everything as technology changes faster than we every could have imagined. And, if you don't keep pace, you can become lost in a plethora of digital interruptions we all see every day all day on our screens and feel further behind than you competitors.
Our team has done an amazing job these past few years of managing the digital and social media spaces but last year we determined we really had strong competitors in that space, as well as decreasing human resources internally to dedicate to this effort and we sought some outside professional assistance.
I am so pleased to say that after a diligent RFP process, we entered into an agreement with Eclipse Creative, an award winning agency located in Victoria and this month, we launched the initial phase of our creative campaign, centered around the theme of 'What's Your Rush?'
We have more details on the campaign below but we really want to encourage all of our tourism businesses to Post, Like or Share digital feeds from this campaign. This will help us reach as many potential visitors as possible. Watch for 'What's Your Rush?' and stay tuned for results in the fall.
Speaking of the fall, mark the date for our 40th AGM/Tourism Industry Conference: October 17 & 18, 2017, in Golden. More details will be available shortly on our website and via news alerts.
We hope everyone is set for another record-breaking season! We would love to hear your stories and experiences as the months unfold. Our team is always accessible by email or phone should you have any questions. Click here for the staff contact list.  Happy Spring!
---
Changes to FCTIP Program not Acceptable
Many concerned tour operators have reached out to either TIABC or the Tourism Industry Association of Canada (TIAC) urging action on the recent federal budget announcement repealing the tax rebate on the accommodation portion of inbound travel packages (better known as the FCTIP program). TIAC has been working diligently over the past two weeks post-budget to better understand the intentions and impact of this repeal.


Click here for a copy of a letter sent to the federal Standing Committee on Finance and other key officials asking for this repeal to be halted or amended. TIAC encourages you to send a similar letter on behalf of your business to the government officials we have copied, as well as your local MP noting how this change will impact your business / organization. The more voices that are added to this call, the more impactful our message will be. Please email questions to: Meagan Zettler, Manager, Public Affairs.
---
New Websites
Parks Canada recently unveiled their new consumer website. The new site is much easier to navigate and the photography is updated. Order your Discovery Pass for free admission to the National Parks for 2017.
The Kimberley Nature Park Society has also launched a new website. They are excited about its potential to inform Kimberley residents and visitors about this wonderful resource in the community of Kimberley. The goal for the new site is to portray the nature park in a way that garners support for its long-term protection – at 840 hectares, it is the largest municipal park in British Columbia and one of Kimberley's greatest assets.
---
Revelstoke in the News!
Tourism Revelstoke has announced that Revelstoke will host a major mountain bike tourism symposium in September expected to attract 200 people. What do mountain bikers look for in a destination? Great trails, mountain scenery, friendly towns with a passion for outdoor … sounds like Revelstoke. Taking place September 13-15, the 4th bi-annual Mountain Bike Tourism Symposium will attract mountain bikers and industry professionals from across the province and beyond. For more information, please email Martin Littlejohn
Congratulations Revelstoke on being named on of the top 34 Most Breathtaking Places in North America in a recent travel blog on Expedia.ca.  Read More.
Major lift capacity increases were announced in April. Not only are they celebrating their 10th anniversary, they are increasing Mt. Mackenzie's lift capacity from 7,299 to 9,700 skiers per hour with the addition of new cabins on the Revelation Gondola and chairs for the Stoke. This summer, the Revelation Gondola will be running its full length, transporting guests one mile high to breathtaking views. A network of hiking trails and sightseeing platforms overlooking the Columbia River and Monashee Mountain range will be open for guests to explore and discover.
Welcome to Sarah Peterson in her new role as the Tourism Marketing Coordinator for the Revelstoke Chamber of Commerce. Sara is BC born and raised and moved to Revelstoke eight years ago. Sarah's contact info is: Marketing@RevelstokeChamber.com; 250-837-5345, X3103
---
Destination Development
The Destination Development planning process is continuing throughout the Kootenay Rockies region. The strategy document for the West Kootenay & Revelstoke planning area is nearing completion after a dedicated working committee helped refine the goals and prioritize the strategies that are going to constitute the plan.
The planning process is also well underway for the Highway 3 Corridor. The engagement from stakeholders along the entire corridor, from Hope to the Alberta border has been phenomenal. The consultative process is also complete and the strategy document is currently being drafted.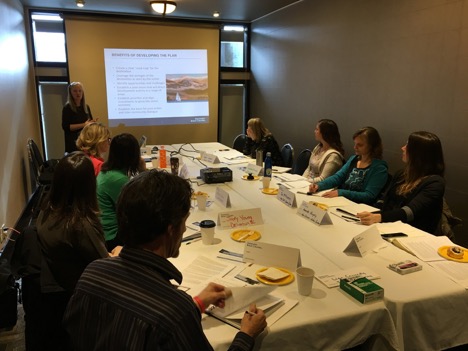 Working Committee Meeting in Castlegar.
For more information on this program, visit DBC's Destination Development, or contact Emilie Cayer-Huard, Industry & Destination Development Specialist.
---
Community DMO AGM's
Tourism Fernie's AGM was held on March 16. Over 70 stakeholders including Emilie Cayer-Huard from our office, attended the event and engaged in the networking breakfast. Fernie hotel revenues have increased by 9% this last year. Significant increases in visitation to Tourism Fernie's key marketing platforms and their hashtag #ferniestoke have resulted in 23 million impressions. Tourism Fernie is also engaged in various partnerships including a new local Co-op Marketing Program and will soon be releasing the results from the recent Value of Tourism Study. The organization's office will soon be moving to the Fernie Chamber of Commerce and Visitor Centre building on Highway 3, this spring.
Tourism Golden's 10th AGM was held on April 10, and both Wendy Van Puymbroeck and Emilie Cayer-Huard attended. Executive Director, Joanne Sweeting presented the performance and activity highlights from the last 9 months. She also presented Tourism Golden's new 'Heart of the Parks' campaign in celebration of the Parks Canada celebration in 2017. The Board and staff took the opportunity to recognize retiring Board President, Lynn Moffat for her eight years of service on the Tourism Golden's Board. Richard Porges, VP of Corporate Development at Destination BC presented on the Provincial DMO's new corporate strategy and plans for the upcoming year.
Municipal Regional District Tax (MRDT) received in Golden and area has increased by more than 70% between 2007-08 and 2014-15, with a 23% increase from 2013-14 to 2014 alone. The length of stay in town has also increased from 2.06 nights in 2013 to 2.4 nights in 2015. Tourism Golden has also been very successful in their PR & Travel Media activities and has earned over 850,000,000,000 impressions in their 10 years of operation.