Kathy Cooper attended the TIABC (Tourism Industry Association of BC) Summit and AGM in Richmond, October 11&12, 2017. Some of the highlights were the TIAC Town Hall with Destination Canada, Aboriginal Tourism Canada and TIABC providing an opportunity to engage small and medium-sized business owner's operators across Canada to better understand efforts being made on national tourism issues.
Along with hearing from Industry, Destination BC provided an update on their Destination and Industry Development programs – what their teams are doing now to address pivotal destination and industry trends and opportunities. They discussed their Destination Development program that is creating a 10 Year Provincial Strategy focused on increasing our industry's long-term global competitiveness.
BC's new Minister of Tourism, Arts and Culture – Honourable Lisa Beare presented during lunch followed by an opportunity for delegates to meet and take photos. This summit was held in conjunction with the AtBC Summit and AGM, which Bonnie Castle-Dixon attended on behalf of Kootenay Rockies Tourism.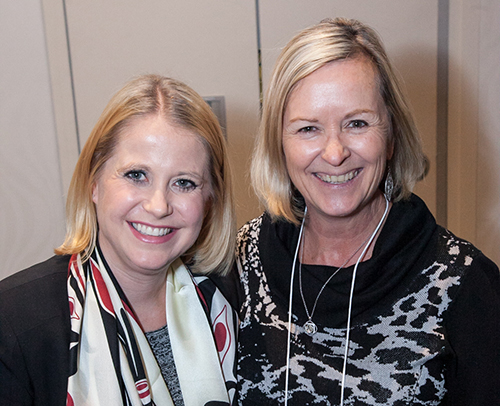 Kathy Cooper and Minister Lisa Beare at the TIABC conference
---
Kootenay Rockies Tourism Industry Conference Presentations and Survey
Thank you to all who were able to join us at our 40th Annual Tourism Industry Conference this past October. Here is a link to presentations from our conference that we received permission to share: 2017 TIC Speaker Presentations.  We value your feedback and would appreciate attendees taking 5 minutes to complete the survey. Survey will close November 30, 2017 – Click here
---
Keith Powell receives an Award for Service
Keith Powell, President & Publisher with Koocanusa Publications served on the Kootenay Rockies Tourism Association Board of Directors for 28 years. On behalf of the Board of Directors and Kootenay Rockies Tourism team members, we want to thank Keith for all of his contributions to tourism in the region and his dedication to the industry!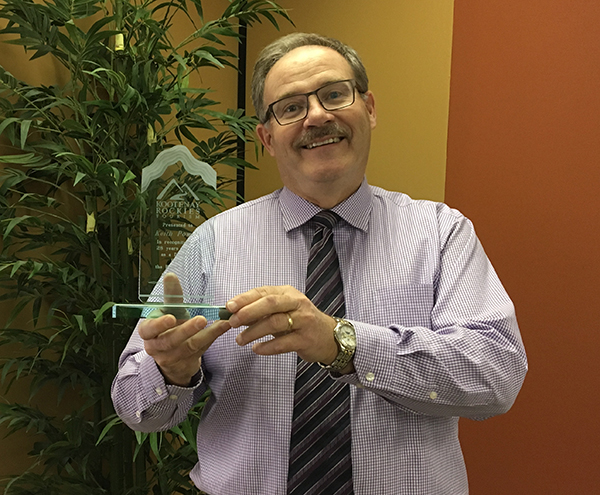 Keith Powell with his award from Kootenay Rockies Tourism
---
BC Family Day Support Letter
Please review the BC Family Day Support Letter addressed to Premier Horgan. If your organization supports our motion, please send  TIABC an email info@TIABC.ca with approval to add your name to the list of signatories.

Family Day is a non-religious holiday on the 2nd weekend of each February that was introduced to British Columbia in 2013. The date was selected via an online ballot of BC residents. Because BC tourism destinations, especially ski areas, are heavily booked at holiday rates on the 3rd weekend of February from primarily three markets (Washington State, Alberta, Ontario), BC Family Day the week prior generates significant incremental tourism revenues rather than displacing business.
An industry-wide consultation process led by TIABC, Tourism Whistler, the Canada West Ski Areas Association, and other tourism partners, looked at the outcome of holding BC's Family Day on a weekend already busy with visiting families from neighbouring provinces and states, and the findings overwhelmingly supported the decision to consider an alternate date. The BC Family Day weekend has become one of the top performing business periods of the year from many BC ski destinations, generating between $7-10 million in incremental visitor spending per winter.
Seasonal operators, like ski areas, generate revenues over a limited number of weeks and the BC Family Day weekend has extended the opportunity to generate annual revenue. BC ski and other tourism sectors are now generating strong visitation on back-to-back February weekends.
In view of Premier Horgan's recent announcement that government is considering changing the date of Family Day. TIABC is requesting your support to keep this annual holiday on the second Monday of each February.
---
Education Opportunities
go2HR brings back their popular Tourism & Hospitality Occupational Health & Safety Summit to Kelowna this November! The OHS Files: Solving your Mysteries will cover relevant health & safety topics for tourism employers, including:
impact of legalized marijuana in the workplace
new health and safety committee requirements
incident investigation reporting
safety of new and young workers
and more!
This event is expected to fill up quickly – space is limited, register now!
The challenges that employers face concerning substance use and potential abuse in the workplace have become more complicated. These challenges are particularly complex in remote workplaces in the tourism and hospitality industry, where employees are often alone or unsupervised.
Managing off-duty conduct in situations where employees live in employer-provided accommodations throws even more confusion into the mix.
go2HR is hosting a webinar to address these issues and is bringing in two lawyers from Mathews, Dinsdale & Clark LLP to speak on this topic. What are the rights and responsibilities of employers and employees? The pending legalization of recreational marijuana use means that now is the time for employers to revisit their rules and expectations concerning substance use and potential abuse in the workplace.
---
Social Media Content Creation & Community Engagement
A free workshop is being hosted by Tourism Golden, in partnership with Kootenay Rockies Tourism. This full-day workshop will provide tips from the professionals on how you can use your smartphone or handheld camera to take engaging photos, create memorable videos, and manage your time efficiently while connecting with a like-minded online community.
Where: Rockwater Bar & Grill – 429 9 Ave N, Golden, BC
When: Thursday, November 30th – 9:00 am to 4:00 pm
Presenters for this workshop are Chris Wheeler, Jeff Bartlett and Andy Brown.
For more information please call the Tourism Golden office 250.439.1111
---
Staffing Survey
Thanks again to everyone who participated in the recent Kootenay Rockies Seasonal Tourism Staffing Survey 2017.  Congratulations to the draw prize winners – Isla Coombs, Kicking Horse Mountain Resort and Cindy Panagabko, Mission Hills Golf Development who each won a $100 Visa Gift Card.
Overall, responses cited a lack of affordable housing/staff accommodations as the primary challenges related to both employee recruitment and retention within the region. The survey also found that word of mouth, staff referrals and job boards are the most effective methods of recruiting. When it comes to retaining staff, flexible schedules and training were cited as two of the top 3 methods most effective.
Click here for the full report and to read more.
---
City of Cranbrook
The City of Cranbrook, the Canadian Rockies International Airport, tourism stakeholders and the board members of Cranbrook Tourism Society are very excited to announce that Cranbrook's Municipal and Regional District Tax (MRDT) application has been approved by BC Finance for 3% collection to commence January 1, 2018.
It was a nine-year journey to get here, but the City and its stakeholders are looking forward to not just the cities tourism future, but partnering on the collective success of the Kootenay Rockies region.  Cranbrook Tourism's position will be to put a spotlight on the city's history, its culture, and its nature-based attractions but also work collaboratively with its neighbours to welcome more regional and international travellers to this unique part of the world.
For more information, please visit the press release found on the City of Cranbrook's website. Click here.
---
Vancouver – Revelstoke
Revelstoke Charter Flights – operated by Pacific Coastal Airlines is the only service providing flights from Vancouver to Revelstoke. Exchange hours of travel time for hours of shredding waist-deep powder!
Running from January 12th to March 16th, 2018, 3-4 times per week depending on dates, depart Vancouver South Terminal at 1 pm, arrive in Revelstoke at 2 pm. City to Slope in 1 hour!

Click here for more information and to book your flight! Or call 1.888.569.1969
---
Fernie Shuttle Service
Both visitors and locals will see a new ski shuttle bus on the roads for this coming ski season thanks to a partnership between the City of Fernie, Tourism Fernie, the Fernie Chamber of Commerce and Resorts of the Canadian Rockies.
"The tourism sector was driven to see a new sustainable transportation model for this coming season and the partners are pleased to present one." Jikke Gyorki, Executive Officer, Tourism Fernie.
Thanks to RMI funding and industry support, the City of Fernie purchased two 24 passenger buses to be used for the local ski shuttle service. The final details are still in the works but the service is expected to start on December 21 and run daily until April 8th.
The day and evening service will provide transportation between town and Fernie Alpine Resort. Rider fares will be $4 each way per person with the option to purchase a 10 Ride Card for $35 including taxes. Riders can pay on the bus or pick up a ticket or Ride Card in advance. Seats will be available on a first come, first served basis.
Further details on the shuttle service and stops will be available soon. TourismFernie.com
---
Welcome Rhiannon!
| | |
| --- | --- |
| | Kootenay Rockies Tourism is pleased to introduce our newest team member, Rhiannon Paterson, Project Coordinator. Rhiannon, a Kimberley girl, moved to North Vancouver to attend Capilano University where she got her Bachelor of Tourism Management Degree and played on the women's varsity volleyball team.  After university, she wanted to come back to the Kootenay Rockies to enjoy the area's mountain lifestyle. |
Since returning home, she has held positions at Tourism Kimberley, Arrow & Axe General Store and Cherry Creek Estate. During her leisure time, Rhiannon loves to be outdoors taking advantage of our surroundings by hiking, mountain biking, and skiing. The KRT Board and staff are happy to have Rhiannon join our team.