What kind of year will 2018 prove to be for the tourism industry in this province and specifically for businesses in this region? I would guess many of our stakeholders are wondering the very same thing right now. After a great start last year, we moved into a challenging summer for many businesses due to the unprecedented wildfire situation. Many recovered through the fall and early winter but it was a stressful and uncertain time while it was ongoing.
The KR Wildfire Regional Economic Survey 2017, provided us with some very good information on how businesses were impacted by the wildfire situation. We are currently working on a follow-up survey to obtain information on how things look now for those same businesses, how their early bookings for summer are shaping up and if businesses have observed interest from customers who perhaps cancelled plans last summer, and are looking to rebook their trip for 2018. We hope to have this ready by early spring.
One of the most promising recent announcements for our region was the arrival of WestJet Link from Calgary to the Canadian Rockies International Airport. As we now know, the service has been delayed to June so that the contracted carrier Pacific Coastal can obtain the required approvals from Transport Canada to service these new cities which include Lethbridge, Medicine Hat, Cranbrook, Lloydminster and Prince George all from Calgary. A quote by Lauren Stewart from WestJet headquarters in Calgary stated that the partner air service "underestimated the required time to receive approvals from Transport Canada".
The launch delay should not in any way discourage anyone from supporting this new service. Once operational, it will open up many new opportunities to reach consumers who have never flown directly into our region due to high costs and limited service.
KRT will be implementing dedicated efforts to promote this service and to deliver messages to consumers focused on the wonderful experiences and opportunities there are in this corner of BC.
Here is where we will ask for your help. Your businesses are the key, you have the products, packages, and offerings that visitors will be looking to book and we want to make sure they find them. I urge you to send us these offers and keep us informed on opportunities for visitors to plan a trip to your property, take in your activity and spend extended time in the Kootenay Rockies region. We will be getting the message out through multiple means such as social media, consumer websites, newsletters and paid advertising. Please contact Karen@KootenayRockies.com with any packages and experiences you wish to have posted on KootenayRockies.com.
Our new 2018 Touring and Exploring Guide is off the press and available to you for distribution to your visitors. This guide now includes a 'Winter Experiences' section which makes it a good resource for the entire year. If you would like to receive a supply for your business, please contact: info@KootenayRockies.com.
We have been pleased to have such a good attendance and engagement in the Remarkable Experiences program that we deliver on behalf of Destination BC. The program is currently underway in Cranbrook with a group of 21 industry stakeholders and will wrap up February 7th with the completion of the digital and social modules. Those who have completed this program have found that it has given them valuable new tools and perspectives on how to create memorable and unique visitor experiences that they can implement into their business model. As well as provide them with some key strategies for digital and social media marketing. If you are interested in learning more about this program, please contact our office for details on where and when it will be offered next.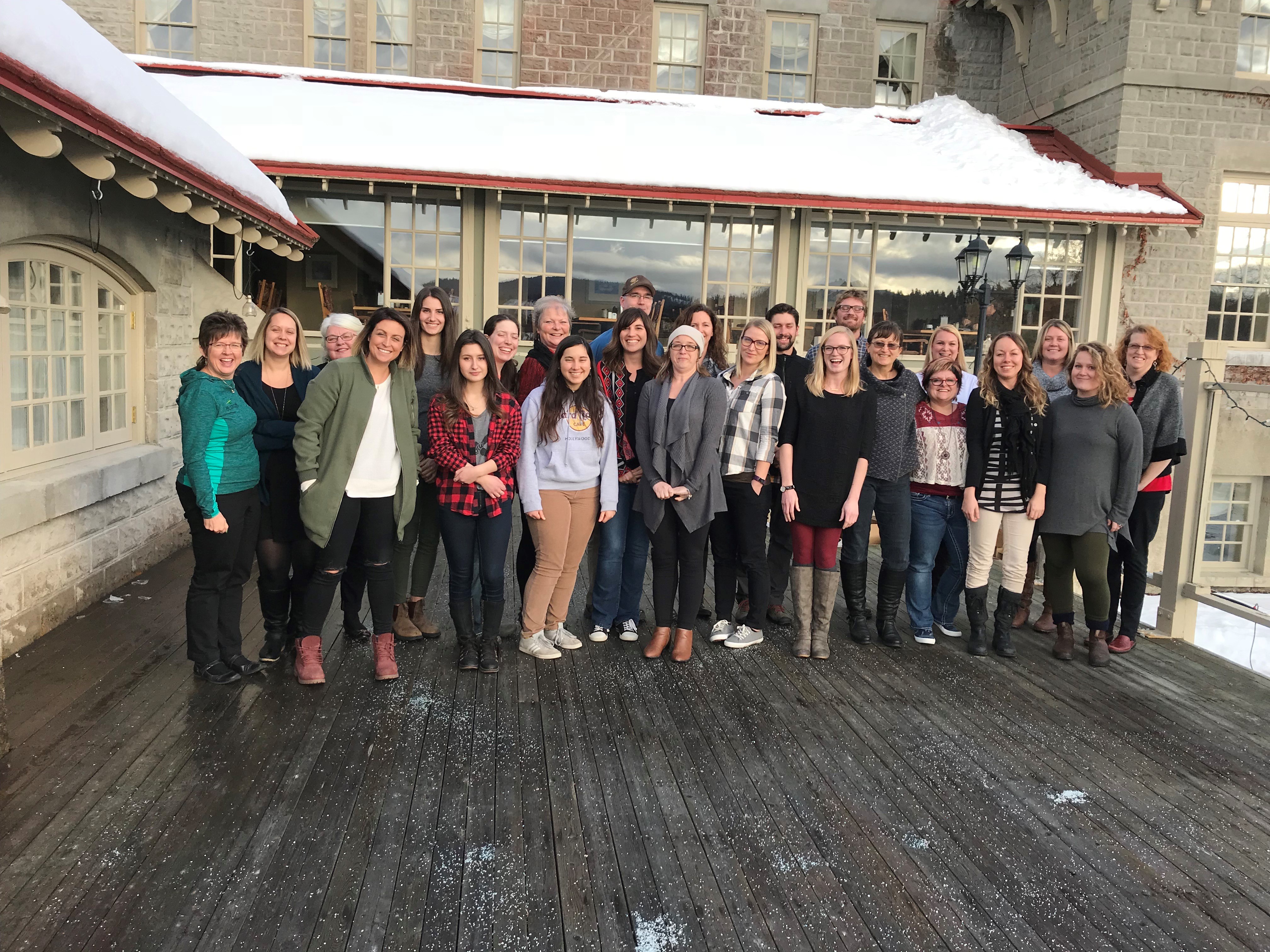 Remarkable Experiences participants at St. Eugene Golf Resort Casino – January 2018
The Highway 3 Destination Development Strategy will launch March 19th in Creston. The West Kootenay/Revelstoke Destination Development Strategy launch date is not confirmed but we will advise once the date is chosen. Destination Development planning for the Highway 1 Corridor is also underway with working committee sessions taking place in Golden and Chase on Feb 5th and 6th respectively.
Finally, the Tourism Industry Association of BC is holding their annual conference March 7-9 in Kelowna. We urge you to consider attending this worthwhile event not only for the valuable sessions and insights but the great networking opportunity with other like-minded business people who are dedicated to making tourism successful and sustainable in British Columbia. Early bird registration has been extended to February 7th, so you still have time to book and save. Links for more information and to register are featured below in this newsletter.
We hope your winter is going well and as always, if you have items to share or questions for any of our team, please reach out to us at any time.
Kathy Cooper, CEO
---
New Powder Highway landing page
Working with the Alpine Ski Resorts in the Kootenay Rockies region, we have refreshed the landing page for the Powder Highway. The site showcases the Alpine Ski Resorts, Cat & Heli-Ski operators, Backcountry Lodges, Communities and all of the other fantastic winter experiences and packages to 'book now' in the region.
A paid social media and digital advertising campaign launched this week, and is being managed by 'The Web Advisors'. We are sending our Powder Highway – Your Road to Winter message to target audiences in Alberta, British Columbia and the Pacific NW USA. Additionally, with Google Ad Grants, we will be reaching out to the longer haul audiences in Ontario and major cities in the USA.
Click here to enter the site: PowderHighway.com
---

Join Destination BC in a new, national User-Generated Content Partner Network
Locals and visitors are having remarkable experiences in BC, and across Canada, and are sharing those stories through social media to create powerful word-of-mouth marketing. Many of us in BC tourism spend time curating this content to amplify through our own online channels, often searching for similar content to share with the same potential travelers. This creates duplication of effort.
The Destination BC team is excited to share that they will be participating in the new cross-Canada User Generated Content Partner Network, in partnership with Destination Canada, all the provinces and territories -plus other tourism marketing organizations around BC. This will allow us all to work together to streamline the way we source user-generated content (UGC), reducing duplication and allowing us to collectively find or 'surface' the best content for use across our social channels.
The network, powered by CrowdRiff, will allow any participating organization to easily feed UGC directly to Destination Canada, Destination BC, and/or any regional and community destination marketing organizations that are also participating. By joining, you'll help surface the best content from your destination, sector, or organization, so partners like us can amplify it across our global social media channels. You'll also be able to access special pricing for CrowdRiff that has been negotiated on behalf of all members of the tourism industry.
Additional information is available on the Destination BC corporate site HERE. The information webinar hosted by CrowdRiff on January 9th is available HERE.
---
Destination BC believes the ability to gather and act on consumer data and insights creates a competitive advantage for BC's tourism industry. To do this, we are creating a Common Tagging Framework, the goal of which is to place digital tags on as many tourism business touchpoints as possible. This project is now underway and will expand in the coming months. As it expands, Destination BC will be looking to stakeholders in the Kootenay Rockies to tag their websites and improve the network of travel data insights being collected across the province.
For more information, please contact Sean McDonald: Sean.McDonald@DestinationBC.ca.
---
Find answers to your HR and workplace safety questions at go2HR's Tourism & Hospitality Roundtable in Cranbrook.
The event is now sold out. We are looking into possibly setting up a second session on the evening of February 15th. If you are interested in finding out about the second session, please contact Ginger Brunner.
Ginger Brunner, Regional HR Specialist
250-860-5999 ext 210
go2HR, BC's tourism human resource association, is hosting a Tourism & Hospitality HR and Occupational Health and Safety Roundtable on Feb. 15th in Cranbrook. Find answers to your questions on HR practices and workplace health and safety including:
Where can I find resources to help me recruit and keep good staff?
How do workplace safety practices impact my business?
How do I build a positive workplace culture?
Where do I start when it comes to setting up my health and safety program?
…and more! Meet your regional HR specialist and industry health & safety specialist who are dedicated to supporting you year-round. They will be on hand to facilitate the discussion, answer your questions specific to your business, and provide you with the go2HR resources and support available to assist you with your recruitment, and workplace safety activities.
---
go2HR welcomes Dorothy Easton to Lead Analysis of Employment-Related Policy and Impacts on BC Tourism Labour Market
Dorothy will be providing research, analysis and recommendations on key employment-related issues and policies affecting the BC tourism labour market. Working closely with leaders in industry & government, educators and other stakeholders, she will play a leadership role in the ongoing monitoring and evaluation of the BC Tourism Labour Market Strategy.
For more information and to meet the entire team, click go2HR.
---

College Career Fairs – Tourism Sections
March 6, 2018 – Selkirk College – Castlegar campus
March 7, 2018 – College of the Rockies – Cranbrook campus
Kootenay Rockies Tourism has purchased bulk space at the two college career fairs in the region. Tourism businesses are invited to join the Kootenay Rockies Tourism Career section. Free of Charge for tourism businesses to attend!
Register directly with the college through the links above. Mention that you are joining the Kootenay Rockies Tourism section.
---

Sunrise Breakfast Show on the Seven Network in Australia
British Columbia and Alberta received some great coverage in Australia as the crew of the Sunrise Breakfast Show broadcast live from Banff and Lake Louise in Alberta and from Kicking Horse Mountain Resort, Panorama Mountain Resort and Fernie Alpine Resort in British Columbia. Live broadcasts of the Kootenay Rockies Resorts aired January 16, 17 & 18, 2018.
Destination Canada, Destination BC, Banff & Lake Louise Tourism worked together with industry partners Flight Centre, Qantas and the ski resorts including Ski Big 3, Kicking Horse Mountain Resort, Panorama Mountain Resort and Fernie Alpine Resort to ensure the Sunrise Breakfast crew was well taken care of.
Pictured is Sam McMillan, Presenter for Sunrise 7 Network

---

The BC Tourism Industry Conference is the tourism event of the year!
For over 20 years, the BC Tourism Industry Conference has been providing a forum for tourism businesses and stakeholders from around British Columbia to come together to learn from experts and each other about the key issues, challenges and best practices in the industry.
Presented by the Tourism Industry Association of BC (TIABC), the conference program is designed to educate, motivate, inspire and invigorate! Attendance at this event will provide access to educational sessions, networking opportunities, and industry social events.
For more conference information, please click BCTourismConference.ca
Early bird registration has been extended to February 7, 2018. To register, please click HERE.
---

British Columbia's Indigenous communities to benefit from investment in cultural tourism
Indigenous businesses and communities  in British Columbia will benefit from a Government of Canada investment of $2,250,000 towards the Aboriginal Tourism Association of British Columbia (AtBC). This support will help indigenous communities and entrepreneurs offer more authentic tourism experiences for visitors to BC.
Funding was announced today by the Honourable Bardish Chagger, Minister of Small Business and Tourism and Leader of the Government in the House of Commons, at the Impact Sustainability Travel and Tourism Conference. The Minister made the announcement on behalf of the Honourable Navdeep Bains, Minister of Innovation, Science and Economic Development and Minister responsible for Western Economic Diversification Canada.
"The stars are definitely aligning. We are developing some great partnerships with some great support and ready to drive the Indigenous Sector to new heights." says Tracy Eyssens, CEO, AtBC.
View full press release HERE