Sesquicentennial. Ses-qui-ce-ten-ni-ial.  It means a one-hundred-and-fiftieth anniversary and if you perfect the pronunciation, it's a real crowd pleaser. As we all know it is Canada's 150th or sesquicentennial anniversary of Canadian Confederation.
Celebrations are being held throughout the entire 2017 calendar year and events & activities have been happening and are planned in communities, cities and provinces all across our vast country.  But, we all know that July 1 is the big 'Canada Day' and it acts as a rather informal start to the busiest months of the season, July and August. We keep saying that this summer will be a record breaker for the tourism industry, topping even the banner 2016 season.
| | |
| --- | --- |
| | And, like a perfect host or hostess expecting more guests than usual, we can have moments where we wonder if we are prepared, if we can handle it and if we will deliver to the level of expectation by our eager, excited and curious guests. And, more importantly, will visitors plan to return, will they tell their friends how great their experience was and will they recommend our place. |
It helps to see your business through the eyes of a visitor or even ask a trusted friend or colleague to try your 'experience' and let you know what perhaps might be improved, or need a couple of tweaks to really make it remarkable.
One of the key programs that Kootenay Rockies Tourism (KRT) delivers in partnership with Destination BC is called the Remarkable Experiences program. It is designed to take a deep dive into a tourism business and help elevate their product offering through an analysis of experience design, digital presence and social media messaging. This is a program that we have now delivered in the communities of Fernie, Golden and Revelstoke and businesses are seeing tangible benefits in having gone through the short program. To learn more about this program and when it will be available in your community, see the Remarkable Experiences update in this newsletter.
We have compiled a fun look at some of the 150 things to do this summer near our four national parks which you can check out and provide to your own visitors.  And also a list of Top 10 Things to do for Canada Day.
We are always looking for more events to post on the consumer website: KootenayRockies.com.  If you have anything to contribute, please email details to Karen Cook.
And, above all, have some fun yourself this Canada Day. After all, you live here, play here, work here, so take some time to celebrate!
Happy Sesquicentennial from all of us at KRT!
Kathy Cooper, CEO
---
Media Relations
In April, Kootenay Rockies Tourism media representative, Heidi Korven, along with the other Team BC representatives, attended Destination BC's Seattle Media Event. Attended by 45 key Seattle-based journalists, KRT used this prime opportunity to pitch spring and summer travel stories for the region. This event, held annually, was a huge success this year.
Heidi Korven also attended Destination BC's annual Media Dinner in Calgary in May. The event was well attended by over 30 key Calgary-based media, including representatives from the Calgary Herald, Avenue, Westjet Magazine, Globe & Mail, CTV, Western Living and many key bloggers and influencers.  The event is a prime opportunity for KRT to pitch travel stories to media in one of our key markets.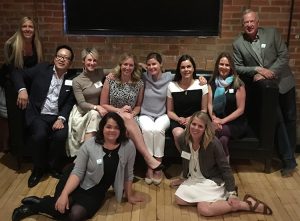 Calgary Media Event
And, just a week ago, we assisted Destination BC with a group press trip that included media from the Toronto Star, JonnyJet.com, Mountain Magazine, a Korean writer plus a member of Hello BC's  social media team. The group travelled from Revelstoke to Nelson with the focus of highlighting adventures that could be done in the shoulder season. During the trip, the media had a chance to experience the Pipe Mountain Coaster, Mount Revelstoke National Park, mountain biking, ferries, hot springs, wonderful communities, kayaking, ziplining and rafting.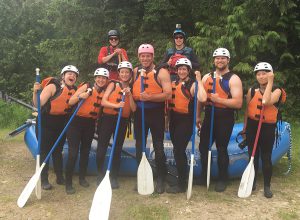 Press group on a Nelson whitewater rafting outing.
KRT's Heidi Korven, second from left.
---
Meet our Board
Nicholas (Nico) Leenders, Marketing Manager at Revelstoke Mountain Resort & Selkirk Tangiers Heli-Skiing, was born and raised in London, Ontario and grew up skiing, then snowboarding in Quebec. After graduation from high school, he went on to complete a Bachelor's Degree in Fine Arts at Concordia University with a major in Sculpture. With rather bleak employment prospects for Sculptors in the Canadian economy, Leenders continued his education and received a diploma in Auto Mechanics with the hopes of finding a career in either auto restoration or customization.
A summer job with RM Restorations in Chatham, Ontario led to a full-time position after graduation, where Leenders became the first in-house copywriter for the Restoration shop's classic car auction division – which happens to be the largest Classic Car Auction House in the World – RM Sothebys. This humble position grew and within a few years Nico was managing a team of writers and was the editor of a classic car magazine – travelling the world, cataloging auctions and driving multi-million dollar collector cars.

Nico Leenders and daughter Amelia on the Pipe Mountain Coaster
Wanting to advance his career, Nico left the company to do an MBA at the University of Calgary – with a focus on Marketing and Business Strategy – being a passionate snowboarder, the choice of Calgary was largely fueled by its proximity to the mountains.  In the MBA program, he met his wife to be, Nicole and moved back with her to Chatham to manage RM Auction's 5 annual North American sales.
In 2013, Nico Leenders accepted the position of Marketing Manager at Revelstoke Mountain Resort and Selkirk Tangiers Heli-Skiing. This change came shortly after the birth of his second child and a desire to dramatically improve his lifestyle and the community within which his young family would grow. Leenders now has 3 children, his wife is the Economic Development Director of Revelstoke and he is very excited about starting his 5th winter season at RMR.
Nico joined the Kootenay Rockies Tourism Board in 2015 and has contributed and added great perspective at the board level. Although he isn't likely to ever drive another vintage Ferrari, he is beyond thrilled with his decision to move to the Kootenay Rockies and immerse himself in everything from fishing to mountain biking to camping – he can't get enough!
---
Remarkable Experiences Update
The Remarkable Experiences Program is a one-of-a-kind tourism program in Canada. It is designed to support small and medium-sized tourism operators in British Columbia in developing and delivering outstanding, visitor-focused experiences while extending their digital and social media marketing efforts.
Destination BC, in partnership with Kootenay Rockies Tourism, will be delivering two sessions this fall and winter. The next two intakes will emphasize the tourism products available along the Highway #3 corridor. Tourism businesses in the West Kootenays are invited to participate in 2017, while businesses in the East Kootenays will be invited to participate in the 2018 winter program.
Module (in-class) training dates are:
Hwy #3 W: Experience Design (Nov 1&2) and Digital & Social Media Marketing (Dec 5&6), 2017
Hwy #3 E: Experience Design (Jan 9&10) and Digital & Social Media Marketing (Feb 6&7), 2018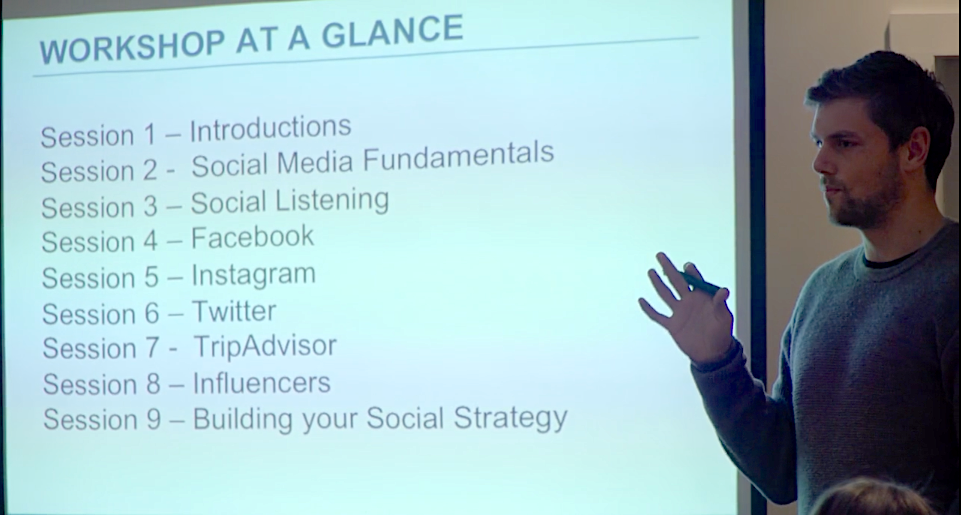 Delivered by top professional tourism industry leaders, you don't want to miss out on this unique social media training. Seating is limited to 30 participants for each session. Contact Shannon Harrison, Business Advisor, with questions and/or more information.
---
Community Ambassador Program launches in the Columbia Valley in June
The Community Ambassador Program is intended to provide an affordable and valuable front-line employee training program that will develop a community-wide welcoming attitude in the Columbia Valley.
Offered through a partnership with the Radium Chamber of Commerce, the Columbia Valley Chamber of Commerce, the District of Invermere and the College of the Rockies, this program will assist front-line employees to better understand the economic value of providing outstanding customer service and enhancing the visitor experience within the community.
Business operators will be encouraged to enroll their front-line staff, who will be joined by new and returning Visitor Centre Councillors. The training will be offered in the form of 2 one-day FAM trips on June 25&26 to different attractions and points of interest in the valley from Canal Flats to Brisco. The tours will be complemented with presentations on the Tourist Economy in the valley, the Value of Customer Service as well as general knowledge. Employees enrolled in the program will become certified 'Community Ambassadors'.
The initiative is provided free of charge to local businesses in the Columbia Valley. Contact Susan Clovechok, Executive Director of the Columbia Valley Chamber of Commerce for more information.
---
Revelstoke's Mt. Begbie Brewing Co. wins top prize at 2017 Canadian Brewing Awards in Ottawa
There are now 50 more great reasons to hit the BC Ale Trail, after the province's breweries enjoyed a stellar night at the Canadian Brewing Awards gala on May 27.  British Columbia beer makers won a total of 49 individual awards, while the coveted Brewery of the Year award went to Mt. Begbie.
The Revelstoke Brewery, which is part of the Kootenay Rockies East Ale Trail, won two gold awards, for its High Country Kolsch and Begbie Cream Ale, and a bronze for its Brave Liver Scotch Ale.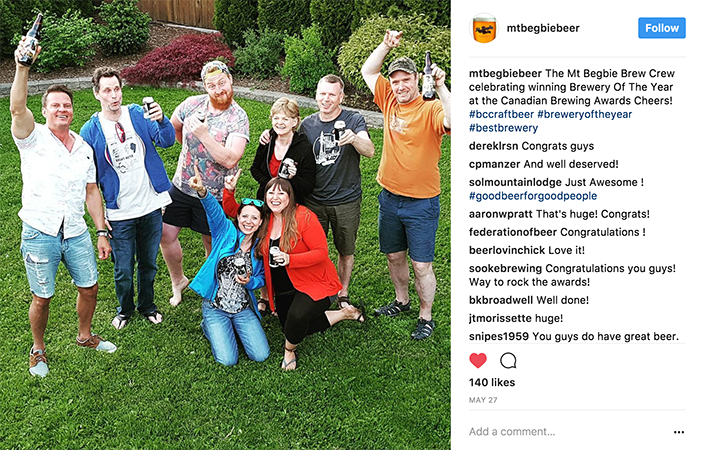 It was a great night for British Columbia's brewing industry in general, with 35 of the province's breweries, from Victoria in the west to Fernie in the east – taking home at least one medal.
---
2017 Influential Women in Business
Kootenay Business Magazine's 6th Annual Influential Women in Business Awards took place last week – June 8 in Cranbrook and June 9 in Nelson. Congratulations to all the women nominated as dynamic, talented and passionate entrepreneurs. Special congratulations and good luck to the nominees who Kootenay Rockies Tourism works closely with:
Nancy Hetherington, Fairmont HS Resort; KRT Board Dir.
Jikke Gyorki, Tourism Fernie
Joanne Sweeting, Tourism Golden
Meghan Tabor, Tourism Revelstoke
Dianna Ducs, Nelson Kootenay Lake Tourism
Deanne Steven, Selkirk College, former Tourism Rossland & KRT Board
Tammy Verigin-Burk, Castlegar & District Chamber of Commerce
Stay tuned to Kootenay Business Magazine for the announcement of the winners!