TOURISM INDUSTRY DEVELOPMENT
DESTINATION DEV. PLANNING

We need to remain relevant and compelling in an increasingly competitive global context. We are working collaboratively with Destination BC, all levels of government, businesses, community groups and sectors to address the need for tourism destination development strategies that enhance BC and the Kootenay Rockies (KR) region as a destination of choice.
Link here for more information
Kootenay Rockies Planning Areas Status:
a) West Kootenay & Revelstoke:
Kick-off Session held in July 2016
Planning sessions held in September and November 2016
Two online industry surveys completed
The Working Committee has met several times to refine the goals & strategies
The draft West Kootenays-Revelstoke Destination Development Strategy is now being reviewed.
b) Highway 3 Corridor:
Planning sessions held in January & March 2017
Two online industry surveys completed
The Working Committee

has met several times to refine the goals & strategies

The draft Highway 3 Corridor Destination Development Strategy is now being reviewed.
c) Columbia Valley:
Second Planning session planned for June 6th, 2017 at Copper Point Resort
For more info, contact:
EMILIE CAYER-HUARD
Industry & Destination Development Specialist
T 250-427-4838 Ext. 206

---
REMARKABLE EXPERIENCES
This new program has been developed to energize British Columbia and make it the most recommended destination in North America. Remarkable Experiences is designed to provide tools to help individual businesses improve their visitor experience and become the best digital marketers they can be.  The program enables tourism operators to become experts in areas such as experience design, social media and digital marketing.
Destination BC in partnership with Kootenay Rockies Tourism will be delivering two 'Remarkable Experiences' in-region social media training sessions and one-on-one business coaching for this fall and early winter. The next two intakes will emphasize the tourism products available along "Highway #3 Corridor".  
Tourism businesses in the West (Ainsworth, Balfour, Castlegar, Crescent Valley, Kaslo, Lemon Creek, Nakusp, Nelson, New Denver/Silverton, Rossland, Slocan, Slocan Park, Trail, Winlaw and Ymir) are invited to participate in 2017.
While businesses in the East (Boswell/Sanca, Canyon, Cranbrook, Crawford Bay, Creston, Elkford, Fernie, Fort Steele, Jaffary, Kimberley, Kootenay Bay, Riondel, Ta Ta Creek, Wycliffe, Wynndel and Yahk) in the 2018 winter program. Module (in-class) training dates are:
~ Fall: Nov 1-2 (Nelson) – Experience Design
~ Fall: Dec 5-6 (Nelson) – Digital & Social Media Marketing
~ Winter: Jan 9-10 (Cranbrook) – Experience Design
~ Winter: Feb 6-7 (Cranbrook) – Digital & Social Media Marketing
Program Benefits:
#1 – Increase revenue potential
#2 – Access to 'expert advice'
#3 – Enhanced online (and social) presence
#4 – Regional connection opportunities
Cost = $450 +GST and includes:
* 4-full day, in-class module training – Experience Design (2 days) and Digital and Social Media Marketing (2 days)
* 1.5 hours of personalized coaching with industry experts (to assist you with your own action plan)
* A digital assessment of your website and active social channels (to let you know how you are doing)
* Workbook and other resources to take home with you
There are only 30 seats available in each program – be sure to book online today!
Here's are our program accolades from attendees from last year!  (Click on the photo/video below.)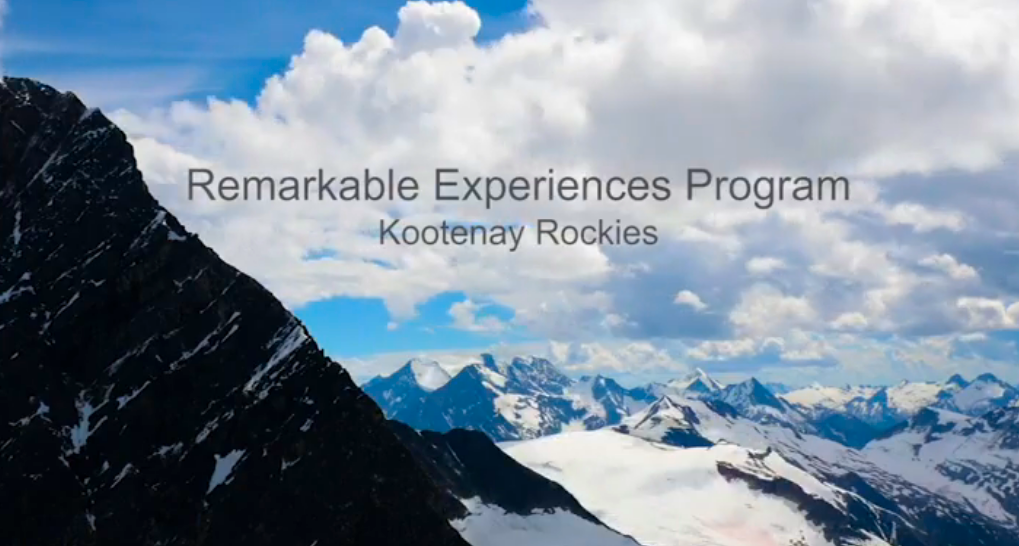 For more info, contact:
SHANNON HARRISON
Business Advisor, Remarkable Experiences & Content Marketing
T 250-427-4838 Ext. 207

---
TOURISM CAREER AWARENESS 
The 'Love Life. Love Work' campaign is set to drive web traffic to the Kootenay Rockies regional page on go2HR's website where students and job seekers will access inspirational videos and stories, job postings, training and education opportunities and other resources such as career profiles, tips, and tools to search and apply for jobs and more.  LoveLifeLoveWork.com is the designated campaign Call-to-Action.
Activities include a series of regional career events, paid advertising and social media posts.
Make sure all your vacant positions, seasonal and year-round, are up on the go2HR free online job board.
In partnership with go2HR, KRT is also assisting employers with tourism labour retention by hosting Seasonal Workforce Exchanges. To inquire about hosting a tourism career event in your community, and for more information, contact:
Thanks again to everyone who participated in the recent Kootenay Rockies Seasonal Tourism Staffing Survey 2017.
Congratulations to the draw prize winners – Isla Coombs, Kicking Horse Mountain Resort and Cindy Panagabko, Mission Hills Golf Development who each won a $100 Visa Gift Card.
Overall, responses cited a lack of affordable housing/staff accommodations as the primary challenges related to both employee recruitment and retention within the region. The survey also found that word of mouth, staff referrals and job boards are the most effective methods of recruiting. When it comes to retaining staff, flexible schedules and training were cited as two of the top 3 methods most effective.
CLICK HERE for the full report and to read more.
EMILIE CAYER-HUARD
Industry & Destination Development Specialist
T 250-427-4838 Ext. 206

---