Kootenay Rockies Reporting
Performance Reports



---
Value of Tourism
Value of Tourism for Kootenay Rockies region, Global Tourism Impacts, BC Tourism Impacts and Tourism Improves the Quality of Life for all British Columbians flat sheet in PDF format.
---
KootenayRockies.com
KootenayRockies.com is the official regional consumer website for the Kootenay Rockies region.  It includes an inventory of all tourism product in the southeastern corner of BC.
Click here for: Google Analytics Annual Reporting 2016/2017
---
KootenayBrochures.ca
(Launched July 2013)
KootenayBrochures.ca is a regional microsite. It showcases all print pieces for the region on an online bookshelf.  All guides, when clicked, are viewable from the Issuu.com digital platform.
2018 Jan 1 – Dec 31
Audience Overview for KootenayBrochures.ca pdf
2017 Jan 1 – Dec 31
Audience Overview for KootenayBrochures.ca pdf
2016 Jan 1 -Dec 31:
Audience Overview for KootenayBrochures.ca pdf
2015 Jan 1 -Dec 31:
Audience Overview for KootenayBrochures.ca pdf

LIFETIME STATS for Issuu.com:

Issuu.com stats for 2018
---
KOOTENAY ROCKIES SOCIAL MEDIA STASTISTICS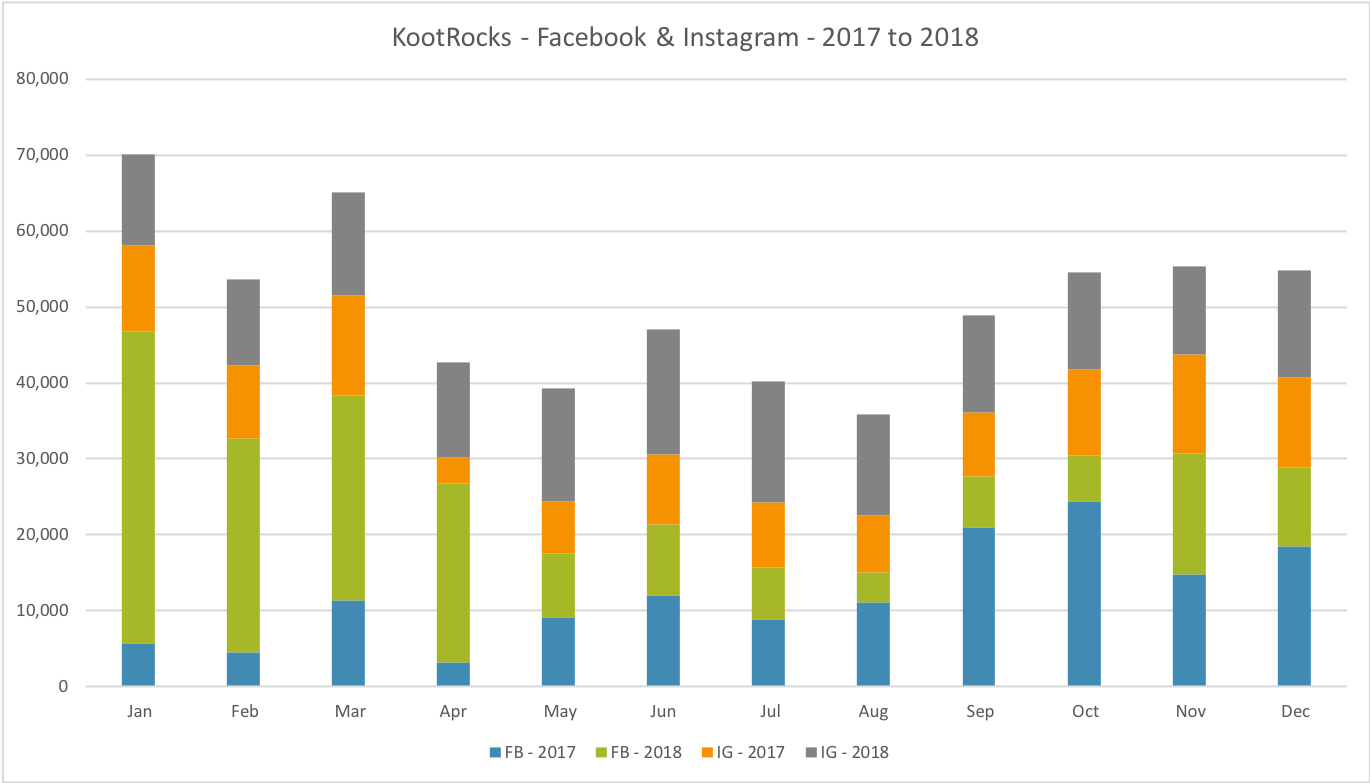 ---
KOOT ROCKS SOCIAL MEDIA CHANNELS (ALL)
2017/2018 Fiscal – KootRocks Facebook, Instagram & Twitter
April 1, 2017 to March 31, 2018: 338,800 Engagements
~ 63.6% increase compared to the 2016/17 fiscal
* Facebook Fans = 20,250 (42.3% increase)
* Instagram Followers = 11,019 (77.6% increase)
* Twitter Followers = 5,297 (7.8% increase)
2016/2017 Fiscal – KootRocks Facebook, Instagram & Twitter
April 1, 2016 to March 31, 2017: 207,137 Engagements
~ 45.1% increase compared to the 2015/16 fiscal
* Facebook Fans = 14,232 (108.9% increase)
* Instagram Followers = 6,204 (538.9% increase)
* Twitter Followers = 4,913 (15.9% increase)
* Facebook Fans = 20,250 (42.3% increase)
* Instagram Followers = 11,019 (77.6% increase)
* Twitter Followers = 5,297 (7.8% increase)
2015/2016 Fiscal – Koot Rocks Facebook, Instagram & Twitter 
April 1, 2015 to March 31, 2016: 142,726 Engagements
~ 37.5% increase compared to the 2014/15 fiscal
* Facebook Fans = 6,814 (69.6% increase)
* Instagram Followers = 971 (n/a)
* Twitter Followers = 4,239 (35.0% increase)
2014/2015 Fiscal – Koot Rocks Facebook & Twitter 
April 1, 2014 to March 31, 2015: 103,802 Engagements
* Facebook Fans = 4,018 (43.1% increase)
* Instagram Followers = n/a
* Twitter Followers = 3,140 (54.7% increase)
---
KOOT ROCKS FACEBOOK (YEARLY)
2017/18 Fiscal Koot Rocks Facebook
April 1, 2017 to March 31, 2018: 219,200 Engagements
~ 119.2% increase compared to the previous fiscal
(Increased the number of content posts by 15%, compared the 2016/17 fiscal)
* 181,400 Reactions; 11,500 Comments; 26,200 Shares
* 6,018 New Fans; 44,600 Link Clicks; 11,000,000 Impressions
* 18,800 Average Daily Users Reached
2016/2017 Fiscal Koot Rocks Facebook
April 1, 2016 – March 31, 2017: 99,982 Engagements
~ 21.3% decrease compared to the previous fiscal
(Reduced the number of content posts by 39%, compared to 2015/16 fiscal)
* 80,560 Reactions; 6,709 Comments; 12,713 Shares
* 7,420 New Fans; 30,220 Link Clicks; 8,464,353 Impressions
* 13,305 Average Daily Users Reached
2015/2016 Fiscal – Koot Rocks Facebook
April 1, 2015 – March 31, 2016: 127,068 Engagements
~ 22.4% increase compared to the previous fiscal
(Same number of content posts as 2014/15 fiscal)
* 105,074 Reactions; 8,544 Comments; 13,450 Shares
* 2,907 New Fans; 13,127 Link Clicks; 4,998,138 Impressions
* 6,030 Average Daily Users Reached
2014/2015 Fiscal – Koot Rocks Facebook
April 1, 2014 – March 31, 2015: 103,802 Engagements
* 84,813 Reactions; 7,969 Comments; 11,020 Shares
* 1,100 New Fans; 4,699 Link Clicks; 3,808,559 Impressions
* 3,917 Average Daily Users Reached
---
KOOT ROCKS INSTAGRAM (YEARLY)
2017/2018 Fiscal Koot Rocks Instagram
April 1, 2017 to March 31, 2018: 117,341 Engagements
~ 28.3% increase compared to the previous fiscal
(Reduced the number of content posts by 25%, compared the 2016/17 fiscal)
* 117,341 Reactions; 115,861 Comments; 1,480 Shares
* 11,019 New Followers; 340,300 Impressions
* 547 Average Daily Users Reached
2016/2017 Fiscal Koot Rocks Instagram
April 1, 2016 – March 31, 2017: 91,444 Engagements
* 91,444 Reactions; 87,112 Comments; 4,332 Shares
* 6,204 New Followers  
Further information:
WENDY VAN PUYMBROECK
Mgr, Business Dev & Special Projects
T 250-427-4838 Ext. 210

Further information:
SHANNON HARRISON
Business Advisor, RE & Content Marketing
T 250-427-4838 Ext. 207

Further information:
KAREN COOK
Publications & Web Specialist
T 250-427-4838 Ext. 204