Tourism Industry Conference
2017 TOURISM INDUSTRY CONFERENCE
& ANNUAL GENERAL MEETING
---
The Kootenay Rockies Tourism Industry Conference & 40th Annual General Meeting was held on October 17 & 18, 2017 at the Civic Centre in Golden.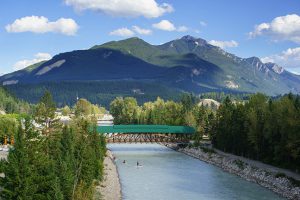 Our association's annual Tourism Industry Conference provides a premier opportunity for business owners and operators, municipal, regional & provincial tourism leaders, and tourism sector professionals to come together to share best practices and learn about new trends and opportunities.
This was our organization's 40th AGM! Event attendees learnt valuable tools to help in the creation and delivery of their unique value propositions and marketing strategies. Presentations, workshops and plenty of networking opportunities are some of the highlights at our event as well as the ever popular Silent Auction and social media trivia!
We hope you can join us next year to help celebrate 41 years of developing and promoting the Kootenay Rockies as a prime travel destination!
Surrounded by national parks, mountain ranges and at the confluence of two historic rivers, it is no wonder the town of Golden is renowned for outdoor recreation. Just about everything is offered – mountain biking, kayaking, paragliding, skydiving, a Via Ferrata …  There's also an abundance of wildlife, scenery and history in this mountain town to captivate you.
Golden Claims:
World's largest enclosed & protected Grizzly Bear Refuge.
World's largest paddle.
Canada's longest authentic freestanding covered timber frame bridge.
Highest downhill Bike Park in North America.
Population: 3,708 (2016 Census)
Elevation: 800 m (2,600 ft)
Thank you Golden!