KOOTENAYBROCHURES.CA
Project Description:
Regional microsite showcasing all the print pieces for the Kootenay Rockies.  The site will house a complete inventory of all regional, community and individual Partner publications, brochures and maps.
All guides are displayed on the online bookshelf.  Shelves will actively be built and labelled as Partners sign-up.  The site will grow into the 'One-stop shop' for consumer to download, print, share or view online.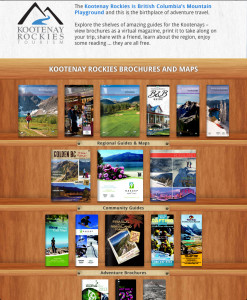 KootenayBrochures.ca homepage
Web responsive microsite
Rationale: One-stop shop for complete inventory of print pieces for the region. Ability to view online, download, print, share.
Target Markets: All markets
Eligible Partners: All Partners

Project Coordinator:
Karen Cook
Publications & Web Specialist

Objectives:
To present the region as a quality tourism destination.
To promote the regional and community information.
To provide destination imagery and direct sales information.
To extend stays.
To increase per diem expenditures.
To bridge print and digital world; web stats will be compiled.
Online Presence Costs:  FREE

Ad material:
Provide a pdf file or a digital platform link for your brochure.
If providing a pdf file, we'll upload you to Issuu.com.
Qs and / or  Submit your material to:
Karen@KootenayRockies.com
---